Down For Youngstown | home
Have a question? Comment? Want to submit a photo? Click the mailbox below:
Down4Youngstown@AOL.COM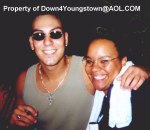 Please Sign the Down For Youngstown
Guestbook! Thank You!
For those who care, here's some info about me!!
Name:
Marisa
Nicknames: M-Boogie (Thank You Sammy!!)
Age:
I'm legal folks. Not old enough to legally drink, but close enough. LOL
Location:
Concord, Cali (Bay Area) I'll be moving to Southern California soon
Fave YT Song:
"Early Frost" and "Pedal"....The new stuff is tight though.
Fave YT Moment:
Sheesh, there's been so many. Although I loved getting the guys' reactions to my YT tattoo. That was priceless. Or when Sammy said that it was my M-Boogie tattoo that brought him luck on the basketball court. =O) I can't wait to see their reaction when we (myself, my sistr Renee and our friend Addie) show them the music video medley we're doing to "Early Frost" and "Pokemon World". It's going to be hilarious.
Prove Your YT Love:
Okay, is getting M-Boogie tattooed on my left arm because Sammy gave me the nickname proof enough? LOL Or how about getting the YT logo tattooed on my left leg? (see pics below) How about that for devotion?! =O)~ (NO DC I will NOT get Big Pimp Superstar across my back unless YOU get M-Boogie across yours. Now what! LOL)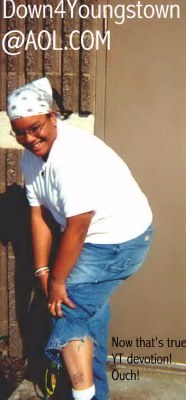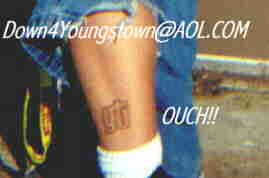 Visit Youngstown's Official Website!