Down For Youngstown | home

I know I said I wasn't going to put a "bio" on the site, BUT I do need to give some sort of info on the fellas for those who don't know who YT is.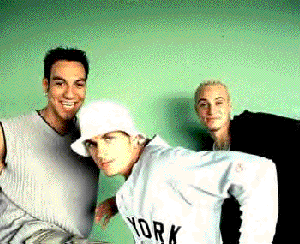 Sammy Lopez, David "DC" Yeager and James Dallas, came together in Youngstown, Ohio
to form the awesome trio that they are today.
They got their break with Mitchell Leib of Hollywood Records who came to them with a song for Disney's Inspector Gadget Movie (1999) titled "I'll Be Your Everything".
Youngstown's career took off from there.
They recorded their debut album, "Let's Roll" and even was fortunate enough to have 5 of their own songs debut on the album.
(For sound clips from "Let's Roll", visit www.youngstownfan.com)
The guys have been busy touring and doing different types of shows nationwide, and even had a stint in Japan. The fellas have a strong following of fans who travel all lengths of the country to see the YT boys perform. I should know, I'm one of them. =O)
Right now, the fellas are busy putting together their next album which will be more edgy and in the words of Dallas himself,
"It's not going to be so "Disney", it's going to be more Youngstown". (6/16/00)
So for more info on YT, check out their Hollywood Records site at:
And be sure to check out their new Official Site at:
-Written By: Marisa Houston for Boogie Down Productions-